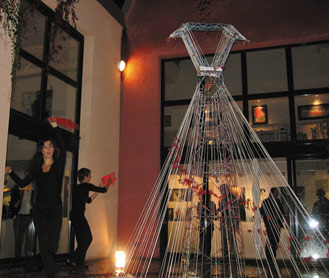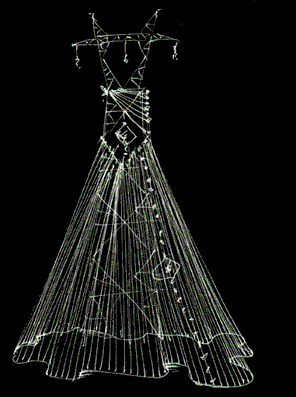 IHT - high tension Installations
"the dress of vea"
The « High Tension Installations » find his place in
urban areas and in the landscape.
The "Dress of Vea », an installation on model of electrical pylon, portray family " Cats " is
accomplished as part of exhibition " Crazy married dress" in The Dialogos Space in France on 2006.
Size :

320x300x300cm.

*
To the donors of light
To the donors and to the researchers of light,
to the person who is in search of transformation,
Elena's "elements " transpose trace of man in
a moment of sharing to a vision of light and space.
What man has done, the artist transforms.
Of these immobile giants, Elena was able to extract aesthetic and grace, giving them an identity and a history.
The light passes, it permits the existence of the work, the light makes the emptiness vibrate, the emptiness that gives existence to life. In a journey of colour between interlacing and cables, the light does cut
outs, the image is created for every traveller that
passes by accompanied by his imagination, his
desire to discover.
Michel Arnault, « Art'Touch » President
.